Home

About Us

Calendar

Links

Memorial Page

Psalms

What's New



Torah Pix


Passover Pix

Purim Pix

Contact Us




Last Updated:
Tues., May 17, 2022



Shabbat Services: Lower Lake United Methodist Church, 16255-2nd St., Lower Lake
Mail: PO Box 4388, Clearlake, CA 95422 · e-mail: beitchavurah@att.net

Beit Chavurah's Torah has a beautiful Aron Kodesh!!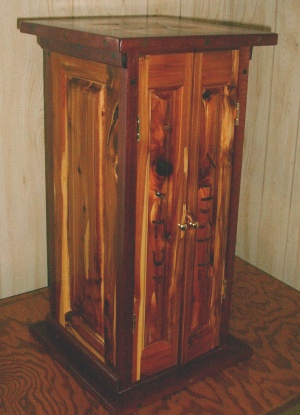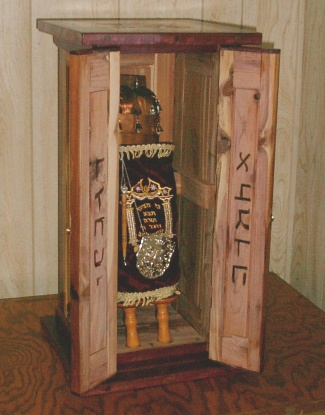 (Jim Miller, standing next to the Aron Kodesh)
Thanks to the wonderful woodworking skills of Jim Miller, Beit Chavurah's Sefer Torah now has an exquisite new Aron Kodesh to hold it.

He designed and built it in honor of his daughter Hannah's Bat Mitzvah. (October, 2006)

If you look closely at the doors, you will see the first 10 letters of the Hebrew Alephbet, which represent the Ten Commandments.





Beit Chavurah's Torah!!


Torah with crown
(made by Dick Griffin) *





*

(z"l) stands for the Hebrew, zichrono livracha, "May his memory be for a blessing."



---
ABOUT OUR TORAH...

It's small, but not tiny, and completely dressed— with cover, breastplate and yad (pointer). As we've mentioned on the website, the scroll is a replica— it is printed by machine on paper, rather than inscribed by hand on parchment. The contents, however, are entirely genuine: Genesis, Exodus, Leviticus, Numbers, and Deuteronomy -- the Five Books of Moses that have saved Jewish life for thousands of years.

The "etiquette" for the Torah service is actually simple: when the Torah moves, we stand. When it is laid down, we sit. When it is paraded around, traditionally everyone is invited (but not required) to touch it with the Siddur (Prayer Book), and then kiss the Siddur. The fringes of a Tallis can also be used for this gesture, but one never touches the pages of the Torah itself.


Beit Chavurah purchased this Torah because:
It will help us celebrate the High Holydays and other Jewish holidays.
It is a wonderful mitzvah for us to be able to read from a Torah.
It is another step in our growth as a community.